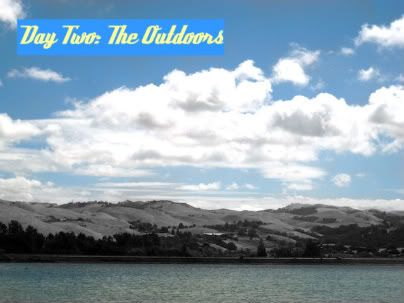 Sorry guys no cupcakes today! I have a quince coming up, if you know-what-I-mean ;) I have to fit into my dress. There is no better way to get in shape than heading for the outdoors and going for a run or hike. The picture to your left was taken in one of my favorite parks, Ed Levin. The outdoors is my favorite subject to photograph (more on that tomorrow). Like any California girl worth her salt I also LOVE the beach. Gray skies + fresh air + sand = my perfect outdoor running scene. Growing up I didn't play any sports, it wasn't until high school that I played some softball. Even though I only did one season, I have a lot of fond memories of playing catch in freshly cut grass and walking home carrying my dusty bat bag. I picked up hiking soon after I graduated from high school, it was intense and addictive. There is a trail in Santa Cruz that I want try but I think I have a little more training to go before I feel confident enough to take it on. Trees are one of those things I wish there were more of, I'm a bit of a tree-hugger. Palm trees are my favorite, they have always been around my house both inside and outside and nothing screams "tropical" like a palm tree. So in honor of Outdoors day I have the following giveaway:
Palm Tree Shaped Cookie Cutter, so you can make your own dessert for today ;) (US Only)
Hiking (101 Essential Tips) by Hugh McManners (Open Int'l)
Extra Entries:
+2 Leave a comment on this post with your favorite outdoor activity!
+1 Tweet about it!
+5 Put a birthday week button up :) Get one

here

.
Thanks for stopping by, see you tomorrow for Birthday Week Day 3!