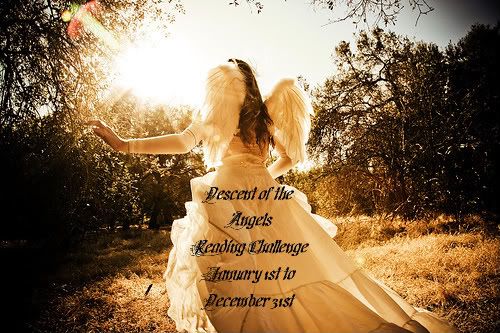 With so many great books coming out with angels in them I decided to co-host a reading challenge in their honor along with Momo from
Books Over Boys
.
The challenge is to read 12 books that have at least one angel as a main character or have angels as the main focal point of the story, you can find a list of acceptable books on my Angel Challenge page. The books do not have to be new releases, books read for other challenges are okay too. The challenge will run from January 1st to December 31st, on the first of each month I will make a post for the challenge with a Mister Linky. You do not have to have a blog to participate, you can post your reviews on Goodreads, LibraryThing, Amazon, and B&N.
There will be a giveaway every month for those who post a review, the prizes will include books and swag, there will be substitute prizes for international participants.
If you're an author and would like to donate items for the monthly prizes please let me know!
To sign up: Send me an email with the link to your blog (or where you will be posting) to anaizreads (at) yahoo (dot) com *note* you can also sign up over at Books over Boys, there will be a list of participants on both of our Challenge pages.
Questions? Send them to the same email and I will get back to you as soon as I can!
Don't forget to grab a button! They are located on the Angel Challenge page.