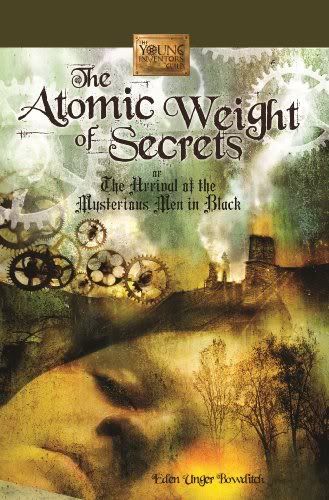 The Atomic Weight of Secrets or
The Arrival of the Mysterious Men
in Black
by Eden Unger Bowditch
The Young Inventor's Guild Book One
339 Pages
Goodreads
,
Amazon
Synopsis is a bit long, but bear with it!
From Goodreads:
In 1903, 5 truly brilliant young inventors, the children of the world's most important scientists, went about their lives and their work as they always had.
But all that changed the day the men in black arrived.
They arrived to take 12 year-old Jasper Modest and his 6 year-old sister, Lucy he with his remarkable creations and she with her perfect memory from their London home.They arrived to take 9 year-old Wallace Banneker, last in a long line of Africa-descended scientists, from his chemistry, his father, and his New York home. 12 year-old Noah Canto-Sagas, already missing his world-famous and beloved mother, was taken from Toronto, Canada, carrying only his clothes, his violin, and his remarkable mind. And 13 year-old Faye Vigyanveta, the genius daughter of India's wealthiest and most accomplished scientists, was removed by force from her life of luxury. They've been taken to mysterious and beautiful Sole Manner Farm, an isolated schoolhouse in Dayton, Ohio, without a word from their parents as to why. The wonderful schoolteacher they find there, Miss Brett, can't explain it. She can give them love and care, but no answers.
Things only get stranger from there. What is the book with no pages Jasper and Lucy find in their mother's underwear drawer, and why do the men in black want it so badly? How is it all the children have been taught the same bizarre poem and yet no other rhymes or stories their entire lives? And why haven't their parents tried to contact them?
Whatever the reasons, to brash, impetuous Faye, the situation is clear: They and their parents have been kidnapped by these terrible men in black, and the only way they're going to escape and rescue their parents is by completing the invention they didn't even know they were all working on, an invention that will change the world forever.
But what if the men in black aren't trying to harm the children? What if they're trying to protect them?
And if they're trying to protect them, from what?
This book was very cute, each chapter had two names in a style similar to the title of the book. There were also little black and white illustrations at the beginning of each chapter. I really enjoyed Ms. Bowditch's writing, I felt like the book was being narrated in a way similar to that of Tim Burton films (with that whimsical male voice). The "Men in Black" as the children call them wear the most bizarre attire imaginable, they wear anything from bunny ears to sombreros to holding a teddy bear and sucking on their thumb or even wearing black sleeping masks (while driving). The children are all geniuses, they have all been working on their own project when they realize that they can combine them all to make one major/thrilling/world-changing invention that may also help them escape from the Men in Black and rescue their parents. After a series of incidents, like when a man shows up to Sole Manner Farm demanding to know about the invention they are working on, they children start questioning whether or not they really are in danger or if their parents have been kidnapped at all. After all, the Men in Black have never harmed the children and have given them everything they could possibly need, but they don't answer any of their questions and are always patrolling the area where the children are. Every weekend the children get to go "home" where they are neighbors and live with their nannies (who also don't have answers for them). As they get nearer to finishing their invention they find someone (or some people) who might be able to help them... The book was at first a little difficult to get into but after a while it it gained it's own rhythm. If you or a young reader you know are into science and math read then I recommend this book. The ending was sweet and semi-satisfying or I will have to read Book Two very soon!
I give this book 4 Stars!