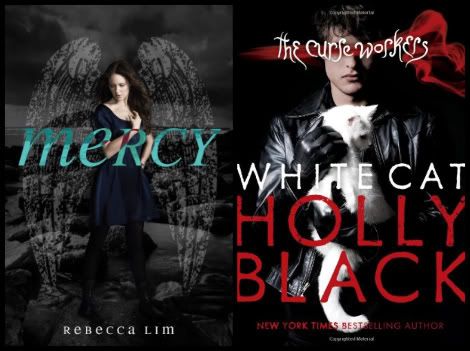 Mercy has lost herself. She can't count how many times she's "woken up" in a new body, and assumed a new life, only to move on again and again. During the day she survives in the human world on instinct and at night her dreams are haunted by him. Mercy's heart would know him anywhere. But her memory refuses to cooperate.
But this time is different. When Mercy wakes up she meets Ryan, an eighteen year old reeling from the loss of his twin sister who was kidnapped two years ago. Everyone else has given up hope, but Ryan believes his sister is still alive. Using a power she doesn't fully comprehend, Mercy realizes that Ryan is right. His sister is alive and together they can find her. For the first time since she can remember, Mercy has a purpose; she can help. So she doesn't understand why the man in her dreams cautions her not to interfere. But as Ryan and Mercy come closer to solving the dark mystery of his sister's disappearance, danger looms just one step behind.
Cassel comes from a family of curse workers — people who have the power to change your emotions, your memories, your luck, by the slightest touch of their hands. And since curse work is illegal, they're all mobsters, or con artists. Except for Cassel. He hasn't got the magic touch, so he's an outsider, the straight kid in a crooked family. You just have to ignore one small detail — he killed his best friend, Lila, three years ago.
Ever since, Cassel has carefully built up a façade of normalcy, blending into the crowd. But his façade starts crumbling when he starts sleepwalking, propelled into the night by terrifying dreams about a white cat that wants to tell him something. He's noticing other disturbing things, too, including the strange behavior of his two brothers. They are keeping secrets from him, caught up in a mysterious plot. As Cassel begins to suspect he's part of a huge con game, he also wonders what really happened to Lila. Could she still be alive? To find that out, Cassel will have to out-con the conmen.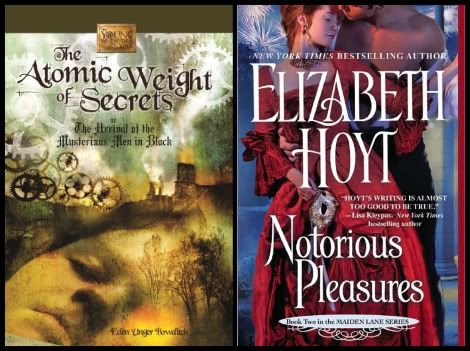 The Atomic Weight of Secrets or The Arrival of the Mysterious Men in Black by Eden Unger Bowditch
(
Goodreads
,
Amazon
)
In 1903, five truly brilliant young inventors, the children of the world's most important scientists, went about their lives and their work as they always had. But all that changed the day the men in black arrived. They arrived to take twelve-year-old Jasper Modest and his six-year-old sister, Lucy he with his remarkable creations and she with her perfect memory from their London, England home to a place across the ocean they'd never seen before. They arrived to take nine-year-old Wallace Banneker, last in a long line of Africa-descended scientists, from his chemistry, his father, and his New York home to a life he'd never imagined. Twelve-year-old Noah Canto-Sagas, already missing his world-famous and beloved mother, was taken from Toronto, Canada, carrying only his clothes, his violin, and his remarkable mind. And thirteen-year-old Faye Vigyanveta, the genius daughter of India's wealthiest and most accomplished scientists, was removed by force from her life of luxury. From all across the world, they've been taken to mysterious Sole Manner Farm, and a beautiful but isolated schoolhouse in Dayton, Ohio, without a word from their parents as to why. Not even the wonderful schoolteacher they find there, Miss Brett, can explain it. She can give them love and care, but she can t give them answers. Things only get stranger from there. What is the book with no pages Jasper and Lucy find in their mother's underwear drawer, and why do the men in black want it so badly? How is it all the children have been taught the same bizarre poem and yet no other rhymes or stories their entire lives? And why haven't their parents tried to contact them? Whatever the reasons, to brash, impetuous Faye, the situation is clear: They and their parents have been kidnapped by these terrible men in black, and the only way they're going to escape and rescue their parents is by completing the invention they didn't even know they were all working on an invention that will change the world forever. But what if the men in black aren't trying to harm the children? What if they're trying to protect them? And if they're trying to protect them, from what?
Their lives were perfect . . .
Lady Hero Batten, the beautiful sister of the Duke of Wakefield, has everything a woman could want, including the perfect fiancé. True, the Marquis of Mandeville is a trifle dull and has no sense of humor, but that doesn't bother Hero. Until she meets his notorious brother . . . Until they met each other.
Griffin Remmington, Lord Reading, is far from perfect - and he likes it that way. How he spends his days is a mystery, but all of London knows he engages in the worst sorts of drunken revelry at night. Hero takes an instant dislike to him, and Griffin thinks that Hero, with her charities and faultless manners, is much too impeccable for society, let alone his brother. Yet their near-constant battle of wits soon sparks desire - desire that causes their carefully constructed worlds to come tumbling down. As Hero's wedding nears, and Griffin's enemies lay plans to end their dreams forever, can two imperfect people find perfect true love?
Any who,
What did you get in the mail this past week?